Sign Up for Our Newsletters
We send out a month­ly newslet­ter — It's free and has great flower arrang­ing ideas and tips includ­ing our upcom­ing flo­ral work­shop list, flo­ral design book reviews, how-tos, and more. We send it out each month and don't share our mail­ing list with any­one.
Floral Design Newsletter Archives
Read more Flower Duet Newsletters from past years:
Each month, we cov­er a cur­rent event in the flo­ral trade, flo­rals from real wed­dings, our lat­est flower adven­tures and endeav­ors, design tips, cur­rent flo­ral trends, flo­ral design class­es and work­shops, book rec­om­men­da­tions and flo­ral tooltips.
Since 2010, we've cre­at­ed a hot list of what's on for flo­ral design in South­ern Cal­i­for­nia and beyond. As guest speak­ers inside and out­side of Cal­i­for­nia, we know what clients are search­ing for in the wed­ding and event indus­try. We are your trust­ed resource for flo­ral design tips and tech­niques for all lev­els of the flower enthu­si­ast.
Kit Wertz and Casey Schwartz, the sis­ter design team of Flower Duet, have been com­mit­ted to edu­cat­ing our stu­dents and fans since we start­ed our flo­ral design busi­ness in 1999.
We don't share our email list with any­one! So, you can rest assured, your email is safe with us.
June 2018 News
Slow Flowers

SUMMIT

— June 29th, 2018!
Coincides with American Flower Week!
This month in Wash­ing­ton, D.C., on June 29th, 2018 Flower Duet will join fab­u­lous flo­ral design­ers and farm­ers to edu­cate, inspire and help con­nect each oth­er through the love of local­ly grown flow­ers!
One way you can par­tic­i­pate in Amer­i­can Flow­ers Week is to attend The Slow Flow­ers Sum­mit in D. C. with us! But if you can­not attend, here are 9 ways you can cel­e­brate flow­ers grown in your own back­yard!
TO BE PRESENTED AT THE SLOW FLOWERS SUMMIT 2018!
For our por­tion of the day's events, we will cov­er how we expand­ed our busi­ness from a small bou­tique oper­a­tion to a full-ser­vice wed­ding and event design stu­dio which offers in-per­son flo­ral work­shops and online flower class­es, too! We will offer our five ways to expand your flo­ral busi­ness and how we approach teach­ing stu­dents whether they are begin­ners or advanced flo­ral design­ers.
Time is short! Buy your tick­ets today!
We are very excit­ed about our appear­ance and pre­sen­ta­tion at The 2nd Annu­al Slow Flow­ers Sum­mit on June 29, 2018, in Wash­ing­ton, D.C. — our old stomp­ing grounds.
Casey and Kit will be talk­ing about our diver­si­fied busi­ness mod­el. We'll edu­cate flo­ral design­ers and florists on how to expand their busi­ness to include edu­ca­tion.
There is a fan­tas­tic line­up of speak­ers for this event including a keynote by Christi­na Stem­bel of Far­m­girl Flow­ers and a pan­el with our fel­low LA flower guru, Mud Baron and Mary­land urban flower farmer, Walk­er Marsh of Tha Flower Fac­to­ry. Oth­er fea­tured speak­ers will be Mary Kate Kin­nae of The Local Bou­quet, Kel­ly Shore of Petals by the Shore, Jonathan Weber of greensin­ner and our host­ess with the mostest, founder of the Slow Flow­ers Sum­mit and Slow Flow­ers move­ment, Debra Prinz­ing, of SLOW Flow­ers.
Join us for Amer­i­can Flow­ers Week in our Nation's Cap­i­tal! Casey and I grew up there. We know where to go and what to see. Reach out and ask our advice and we hope to see you there!!
https://www.eventbrite.com/e/slow-flow­ers-sum­mit-2018-tickets-41606721825
5th Annual Event by the
WEHEROES

at Terranea Resort
May 8, 2018 Featured "How to Be
&

Stay #onthelist!"

All Pho­tos by Miki & Son­ja Pho­tog­ra­phy
We love being part of this fan­tas­tic group of ven­dors who meets once a month to dis­cuss how to grow our busi­ness­es and be the best we can be in our indus­try. So hap­py to share what we learn togeth­er to ven­dor peers in our 5th annu­al spring edu­ca­tion­al event at Ter­ranea Resort. Here's a high­light of this year's brunch and pre­sen­ta­tion we held on May 8, 2018 at the award-win­ning and won­der­ful sea­side venue.
Video from #OnThe­List by Bof­fo Video on Vimeo.
We have a won­der­ful team of mem­bers in our Wed­ding and Event Hero group. And this year, we all worked togeth­er to cre­ate anoth­er infor­ma­tion-filled pre­sen­ta­tion for our ven­dor peers. Here is our team:
Jen­nifer Messer­li – Ter­ranea Resort
Jack­ie Han­son – Design Vis­age
Miki & Son­ja Rakice­vic – Miki & Son­ja Pho­tog­ra­phy
Casey Schwartz & Kit Wertz – Flower Duet
Lisa Oler – Smile Lounge Pho­to Booth
Alis­tair Tober – The VIPs Enter­tain­ment Inc.
Amy and Jere­my Berman – Vanil­la Bake Shop
Court­ney Lipthay – Cecile's Paper Com­pa­ny
Stel­la & Paul San­ti­a­go – Bof­fo Video
This year's event also fea­tured beau­ti­ful donat­ed linens from Wild­flower Linen and La Tavola Fine Linen.
California Wedding Day #Bestof2018 Awards Gala at Vibiana
Arti­cle and Pho­tos by Kit Wertz
Here are some pho­tos and high­lights of our sec­tion for which we designed flow­ers of the Cal­i­for­nia Wed­ding Day Best of 2018 gala held at down­town Los Angeles's his­toric Vib­iana.
That event "cel­e­brat­ed the Gold­en State's chic and eclec­tic style, from San Diego to Sil­i­con Val­ley," says its spon­sor on its web­site.
Cal­i­for­nia Wed­ding Day host­ed more than 500 of South­ern California's top wed­ding indus­try pro­fes­sion­als to cel­e­brate the final­ists for Best of 2018—and announce the win­ners. Flower Duet was pleased to be nom­i­nat­ed for the 2nd year in a row for "Best Wed­ding Florist in Los Ange­les" and con­grat­u­la­tion Lotus and Lily for her win in our cat­e­go­ry.
Under the direc­tion of Lisa Khan of Lisa Khan Events and Jason Rhee of Rhee­fined Events, with sup­port from Rayce Pr, we joined forces with a tal­ent­ed team of ven­dors (see list below) to cre­ate a few fab­u­lous vignettes of LA area life.
Credits:
This Month's Free Online Flower Class
Each week, we offer a new flower les­son as part of our Flower Arrang­ing Fri­days series call­ing it "A Full Bou­quet of Lessons one Stem-At-A-Time."
Our Flower Arrang­ing Fri­days series is a per­fect­ly-sized approach to learn­ing the art of flo­ral design. With each mini-class, we'll show you a tru­ly use­ful flo­ral design tech­nique in a cur­rent event flo­ral design style. This class series will keep you won­der­ing what we'll show you next!
As part of each class, you'll receive:
1. A down­load­able PDF list of sup­plies includ­ing the flower recipe.
2. Easy-to-fol­low mini video lessons so you'll nev­er have to rewind the video to see a step again.
3. Tips and florist secrets to help you be a suc­cess­ful flo­ral arranger!
June 2018 Free Online Flower Class
Each month, we'll make a flower class from this series FREE for any­one to test out for a month. For our 2018 June selec­tion, Casey shows you how to cre­ate a soft pas­tel-inspired design that is great for an out­door event from a wed­ding to a brunch to a sum­mer gar­den par­ty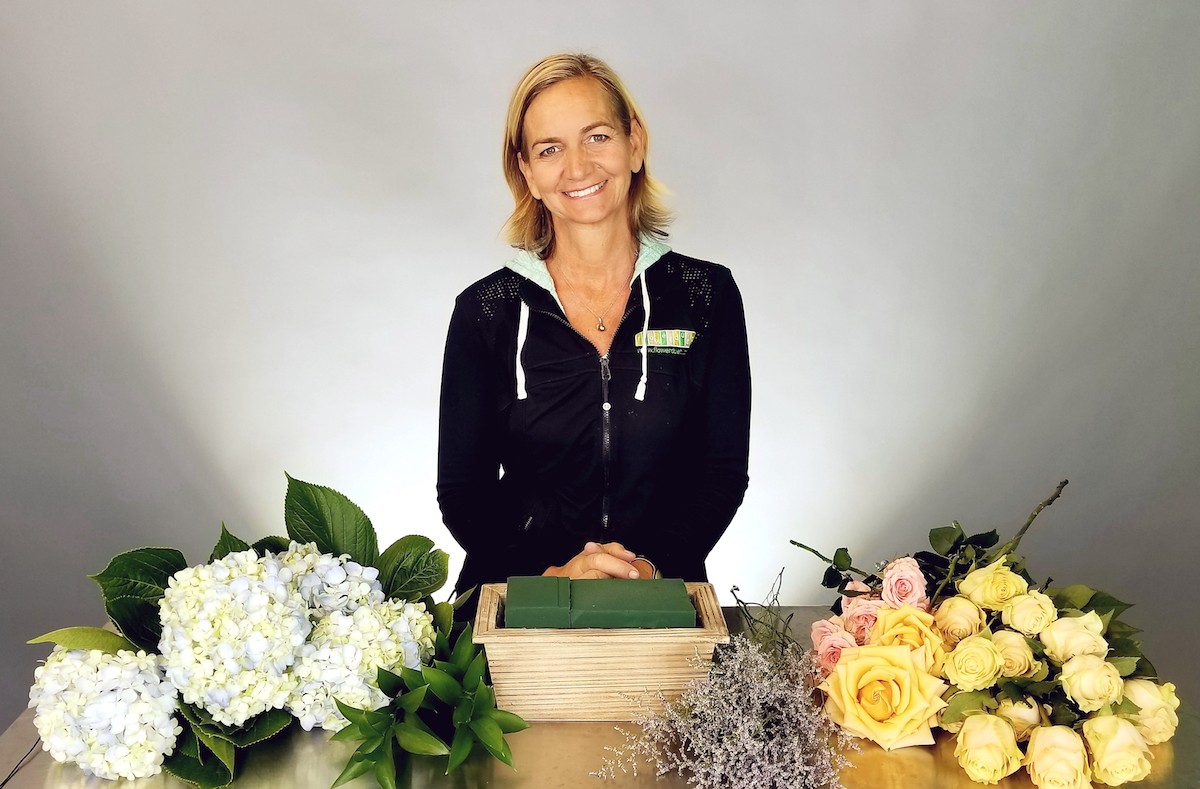 What you'll receive for this class:
Down­load­able sup­plies list
All About Ros­es Lec­ture you can down­load
All About Hydrangeas
8 videos
Tips on how to group flow­ers for max­i­mum impact!
Join this class for free this month!
Book Recommendation for Succulent Lovers!
By Kit Wertz
Last month, I was final­ly able to meet Debra Lee Bald­win in per­son after years of emails and mes­sages. She fea­tured one of our suc­cu­lent bou­quets in her book, Suc­cu­lents Sim­pli­fied (see page 209!).
My friend Lau­rie, is a mem­ber of the Palos Verdes Gar­den Club and invit­ed me to attend a talk by Debra giv­en to the club in Palos Verdes.
It was so fun to catch up with Debra and I real­ly enjoyed her talk. One of the take­aways I had was a phrase she used to describe good design prin­ci­ples whether it be for a yard or a con­tain­er. The phrase is "con­trast and rep­e­ti­tion = good design." I think this is a great guide for flo­ral design, too!
Illus­trat­ed with 400 beau­ti­ful pho­tos, this is a com­plete­ly revised sec­ond edi­tion which includes the essen­tials of the first along with ten years of new ideas from the Doyenne of Suc­cu­lent Design!
Baldwin's third book about suc­cu­lents is "a kind of pre­quel to the pre­vi­ous two." It's a guide for new enthu­si­asts, a ref­er­ence for any­one seek­ing a good overview and some cool design ideas includ­ing a bridal bou­quet by Flower Duet on Page 209!
Shows how any­one regard­less of cli­mate or space con­straints can grow sculp­tur­al, low-water suc­cu­lents in a wide vari­ety of easy-care and beau­ti­ful pot­ted gar­dens.
— Best suc­cu­lents for pots
— Small-space solu­tions indoors and out
— Smart, sim­ple plant care tech­niques
— 300+ col­or­ful and cre­ative ideas
Fea­tures 75 illus­tra­tions by renowned Euro­pean artist Lau­ra Ser­ra inspired by my pho­tographs (includ­ing many from my books). Sen­sa­tion­al Suc­cu­lents show­cas­es an exten­sive array of suc­cu­lents and empha­sizes their melod­ic geom­e­try and exquis­ite pat­terns. This beau­ti­ful­ly illus­trat­ed book offers hours of restora­tive, cre­ative fun and a fresh way to enjoy your favorite plants.
2019 Flower Design Classes

Flower Duet's South­bay Stu­dio
Reg­is­ter for these class­es online. *LA Flower Mart Tours avail­able some dates also.
Jan­u­ary 12, 2019 — The Ele­gant Calla Lily
Feb­ru­ary 9, 2019 – Organ­ic Con­tain­ers
March 9, 2019 – Eccen­tric Emer­ald Flow­ers
April 20, 2019 – A Mod­ern Take on the Bas­ket of Flow­ers
May 11, 2019 – Tulips for Mother's Day
June 15, 2019 – A Pock­et Full of Posies
July 20, 2019 – Large-Scale Flo­ral Design with Ros­es
August 17, 2019 – Too Hot Trop­i­cal Flow­ers with Orchids
Sep­tem­ber 14, 2019 – Suc­cu­lents

&

Flow­ers
Octo­ber 12, 2019 – Fall, Tall

&

Ter­rif­ic Flow­ers
Novem­ber 23, 2019 – Flo­rals On the Table Work­shop
Decem­ber 7, 2019 – Wreaths!
Wednes­day Night Wed­ding Series Work­shops:
Jan­u­ary 23, 2019 – Bou­quet

&

Bou­ton­nière
Feb­ru­ary 27, 2019 – Cen­ter­piece

&

Table Accents
May 22, 2019 – Bou­quet

&

Bou­ton­nière
June 26, 2019 – Cen­ter­piece

&

Table Accents
Sep­tem­ber 25, 2019 – Bou­quet

&

Bou­ton­nière
Octo­ber 23, 2019 – Cen­ter­piece

&

Table Accents

Reg­is­ter for these class­es through brownpapertickets.com.
Jan­u­ary 19, 2019 — Herb Gar­den Flow­ers
March 2, 2019 — Bulb Spring Flow­ers
May 4, 2019 — Cin­co de Mayo Bright Flow­ers
June 1, 2019 — Ros­es
More in 2019 in the fall!
Autry Muse­um
Watch for Novem­ber Class in 2019!
---
---
Wedding Flowers
Flower Duet offers a gen­er­ous wed­ding pack­age includ­ing a trip to the LA Flower Mart and a mock­up design of the wed­ding vision. Check out the details on our Wed­ding Flow­ers page. If you are com­ing to the Los Ange­les area for your wed­ding, we are your Los Ange­les wed­ding des­ti­na­tion florist!